January 4, 2023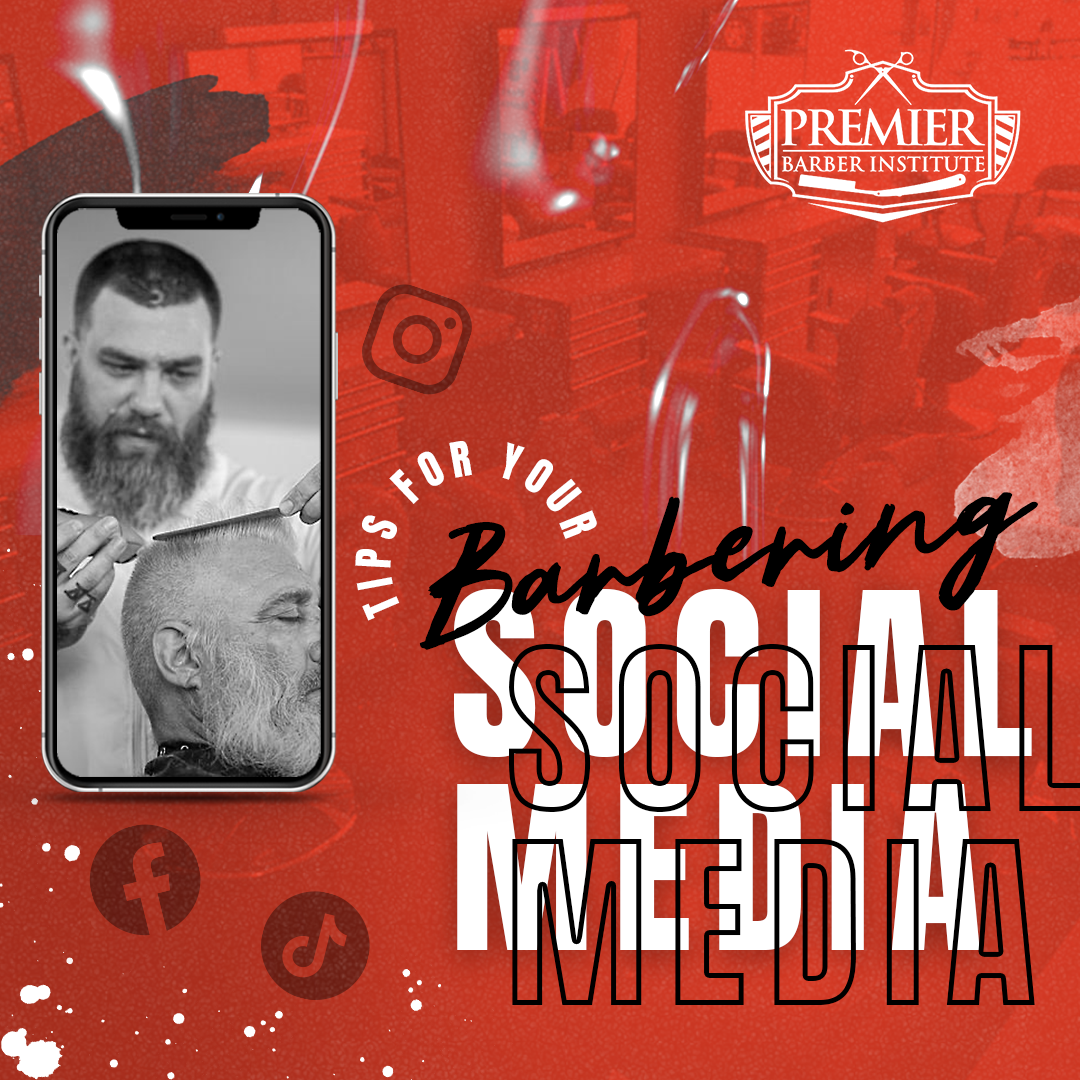 Over the past decade, digital marketing has become essential to the success of any small business. A study from GlobalWebIndex found that, on average, consumers spend 2.5 hours per day engaged on social media platforms. The study also found that users between 18 and 24 are more likely to use more than four social media sites daily.  This presents an excellent opportunity for barbers to reach their target audience and share the services they offer.
Here are some tips for your barbering social media to get you started:
Choose a Platform
Before you start marketing on social media platforms, it's important to decide which one is best suited for your page. Consider the type of content you want to share and how it will best reach your target audience. Instagram is great for sharing images, while TikTok is a great platform for creating fun, short videos.
Use Professionally Taken Photos
A picture is worth a thousand words, so why not give clients a one-stop shop to understand all that you have to offer? Including professionally taken photos of your tools and the various types of haircuts you offer is the perfect way to court customers. Showcasing your unique skills is an easy way to highlight your expertise and encourage customers to book an appointment. Additionally, offering a virtual tour or photos of your workspace will help clients familiarize themselves with the atmosphere before they visit.
Leverage Hashtags
Hashtags are a great way to connect with potential customers on social media. Utilizing keywords and phrases associated with barbering, such as "hairstyles" or "barbershop", you can join conversations related to your business and expose yourself to a wider audience. Additionally, hopping onto current trends and creating your own hashtag featuring your business name or services can be an effective way to get noticed.
Share Tips and Tutorials
People love a good tutorial, especially when it comes to barbering. With the right tips and tutorials, you can create meaningful engagement with barbering customers and show them the value of your services. For example, posting visuals of different hairstyle options, complete with instructions on achieving each one, can be instrumental in helping clients envision what they'd like to do with their hair. Additionally, showing step-by-step progress of cuts from start to finish is a great way to provide insight into your work process. Customers appreciate when you share knowledge and having tutorial content on hand can help demonstrate a broad range of talent as a barber.
Engage With Your Audience
Engagement is an essential part of social media success. For barbers, it's important to interact with your audience to help build relationships and keep them informed. You can use social media to do this by responding to comments, following other related accounts, liking posts, and even reposting photos from customers that feature your work. These are all great ways to create more visibility for your page and show your audience you appreciate their support – it also opens up a room for conversation about products or services you offer. Social media interaction doesn't have to take a lot of time, but when done right, it can do wonders for your business.
Run Giveaways and Contests
Giveaways and contests are a great way to create buzz about your barbering services. You can offer special discounts or even free services in exchange for customers tagging friends, sharing posts, or entering a sweepstakes drawing. This type of engagement not only creates excitement among current customers but it also can help you find new ones. Additionally, running giveaways and contests gives you an opportunity to see what types of products or services are in demand among your customers and then tailor them accordingly.
Network With Other Professionals
Networking with other beauty and barber professionals can be a great way for barbers to grow their customer base and expand their offerings. By building relationships, barbers, salons, and other professionals can work together to create attractive packages, joint marketing efforts, or simply share referrals with each other. Moreover, networking allows you to learn from each other by exchanging tips, tricks, and advice.
Take Advantage of Paid Advertising
Investing in paid advertising on social media sites can help boost your reach and get more eyes on your work. Platforms like Facebook, Instagram, and Twitter all offer targeted advertising options that allow you to specify who sees your posts. This can be invaluable if you want to reach a more specific audience. Paid advertising can be done on a budget and offer a great return on investment.
Stay Consistent
Consistency is key when it comes to social media. Posting regularly and being active on platforms will help keep you top of mind with customers. But be sure to post quality content that adds value rather than just spamming them with sales pitches. Additionally, make sure all the information is accurate and up-to-date – you don't want potential customers to be confused or frustrated because of outdated content. By staying consistent, you'll be able to build trust and credibility with your audience.
Analyze Your Results
Finally, don't forget to evaluate your efforts and measure the success of your social media strategy. There are plenty of analytical tools available that can provide you with insights into how well your content is doing, who is engaging with it, and what type of reach it has. By using this data, you can make more informed decisions about where to invest time and money in order to get the most out of your social media efforts.
The Bottom Line
Having a strong social media presence is essential for barbers who want to stay competitive in their industry. With the right strategy and tactics, you can leverage your online presence to reach new customers and build relationships with existing ones. By following all these tips, you can ensure that your social media is getting the most out of its efforts.
Get Started On Your Journey
At Premier Barber Institute, it's our goal to help students learn how to be successful in the barbering industry. Our programs are designed to have a curriculum based on skills that are important for growth.
Take the first step towards your dream of becoming a barber today by scheduling a tour! We can't wait to meet you!