October 8, 2021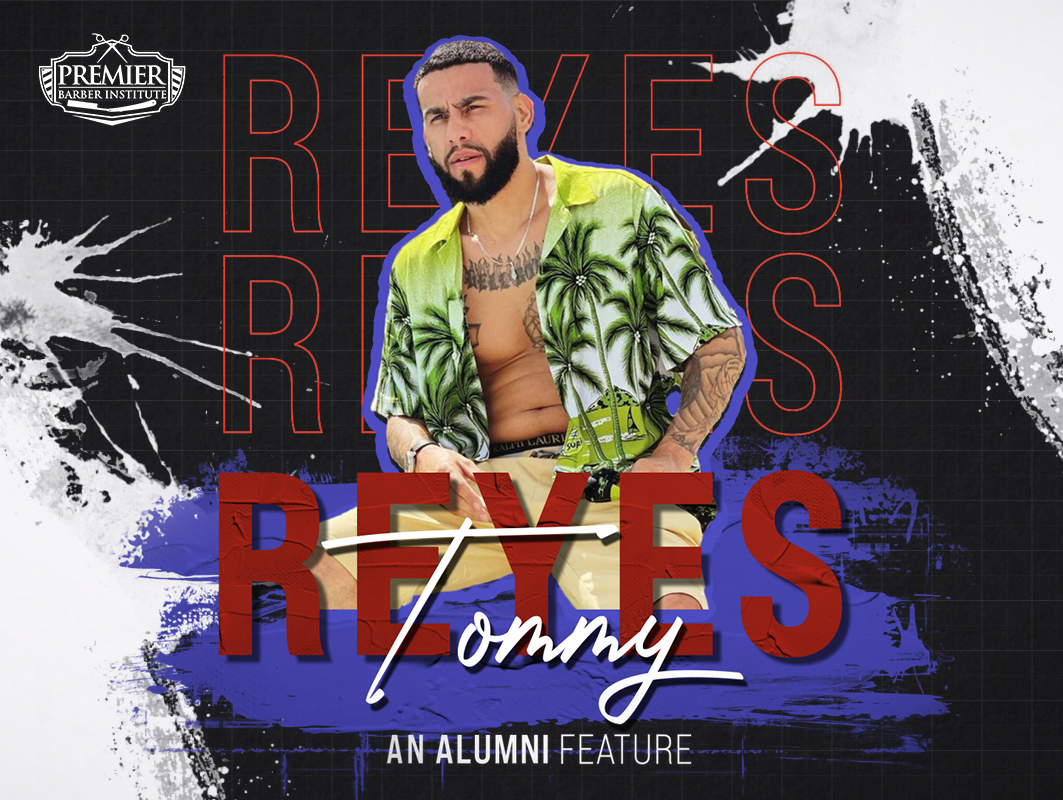 When we say barbering can change lives, we mean it. We've seen barbering affect the lives of many students who have studied at our school, but it particularly changed Tommy Reyes, an alumnus from Premier Barber Institute. Read more about Tommy's life story and how studying barbering adjusted his life path and how it could change yours too.
Tommy's Story
Before Premier Barber Institute, Tommy had trouble with the law and was incarcerated before attending and spent 13 years in prison. During this time, Tommy discovered his interest in barbering because of its potential for growth. "Barbering allows you to grow as much as you're willing to grow. It has endless possibilities", says Tommy.
Becoming a barber can be a long-lasting and satisfying career. Earning your license is an accomplishment in itself and while most people follow the traditional route of working in a barbershop, there are plenty of other career opportunities you can pursue with a barbering license. Some of these careers include:
Barber Product Developer
Events Barber
Freelancer
These are just some of the careers you can pursue after getting your barbering license. Barbering is a path where you get to show off your technical skills while showing your creative side and is a rewarding career.
Why Tommy Choose Premier Barber Institute
"I chose Premier [Barber Institute] because of its curriculum and the fact that it's an accredited school and those were the selling points for me."
Here at Premier Barber Institute, we are proud to have earned an accredited title and we are the only barber school within our area with accreditation. In 2016 we opened our doors to those who wanted to change their lives. We wanted to create a place where students could learn the skills they needed to be successful in the industry.
"Premier [Barber Institute] is recognized by not only shop owners but shop clients as a great school. So having attended Premier [Barber Institute] has helped people put their confidence in me as a barber because they know I've graduated from a great school," says Tommy.
Our Barbering Program
Our program is designed to help students learn how to succeed in a professional barbershop setting. Our lessons are divided into sections to help our students prepare for their careers after they graduate. Some of the things you can learn during our 1250-hour program in Norristown, Pennsylvania are:
Razor Honing and Stropping
Straight Razor Uses
Haircutting and Styling
Facial Massages
Electrical Equipment and Tool Uses
And more!
When you succeed, we succeed. We employ highly skilled and experienced instructors that combine the latest teaching techniques with a wealth of knowledge and experience. Our barbering program is hands-on and interactive to help our students get ready for their careers in the industry. For those wanting to join our program, here is some advice from Tommy.
"My advice would be to pay attention to the details. Don't miss any opportunity to learn. After joining a shop I now realize that some of the things I didn't enjoy doing because they didn't seem cool are things that I use daily at the shop."
Ready To Change Your Life?
"Finally I will say that attending Premier [Barber Institute] was great for me. I learned a lot and I met some really great people who I am fortunate enough to call friends."
One of the best things about barbering is helping people look as good as they feel. If you're ready to be like Tommy Reyes and change your life, then consider taking the next steps and enrolling with us at Premier Barber Institute. You can contact our admission team online or give us a call at (844) 467-7364
If you felt inspired by Tommy's advice or his personal life journey, follow him on Instagram and check out some of the work he's created with his skill in barbering! He also shares some great motivational content to help you feel like you can overcome anything in your path and accomplish any goal you put your mind to!