August 1, 2023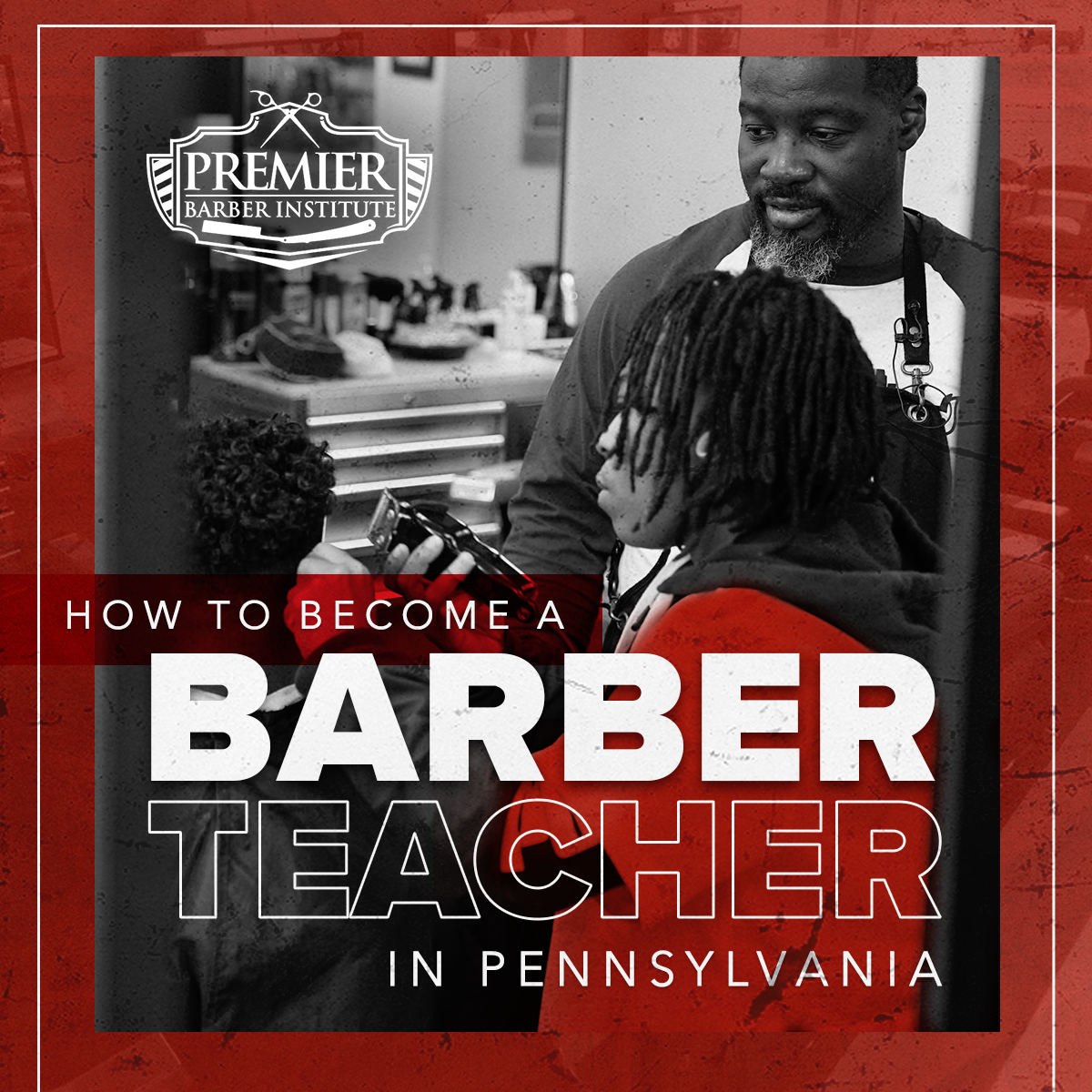 If you're a skilled barber, you may be wondering what to do next with your career. If you have a passion for sharing your knowledge and influencing the next generation of barbers, then becoming a barber teacher could be a perfect career choice for you! In this blog, we will guide you through the steps of becoming a barber teacher in Pennsylvania.
Barber Teacher Pennsylvania Licensure Requirements
Licensure requirements for becoming a barber teacher are essential to ensure that educators have the right qualifications and knowledge to train others. In Pennsylvania, here are the requirements:
High School Diploma or Equivalent
2 Examinations
5 years or 1,250 hours as a Licensed Barber
No Continuing Education Requirements
$170 Initial Fee
$225 Renewal Fee
Step 1: Enroll In A Program
The first step to becoming a barber teacher is to either 1). have 5 years of experience working as a licensed barber in a licensed barber shop or 2). be trained for 1,250 hours in a barber teacher program.
If you choose to pursue the first path, gaining experience in the field becomes a crucial step on your journey. It is important to note that a minimum of five years of practical experience is required to become a barber teacher. This hands-on experience not only strengthens your expertise but also equips you with invaluable real-life insights and anecdotes to share with your future students. By immersing yourself in the field and accumulating years of firsthand experience, you can be well-prepared to guide and inspire the next generation of aspiring barbers.
If you're inclined to pursue the second route, the program offered at Premier Barber Institute is specifically tailored to ensure the success of our students. With a focus on providing comprehensive training and fostering a supportive learning environment, our program can be completed in as little as nine months. In this program you can expect to learn:
Teaching Techniques
Lesson Plans and Presentation
Effective Classroom Management and Supervision
Test Development
The Teaching Plan and Learning Environment
Teaching Study and Testing Skills
Basic Learning Styles and Principles
Communicating Confidently
Effective Presentations
Achieving Learner Results
Educational Aids and Technology In The Classroom
Assessing Progress and Advising Students
Career and Employment Preparation
The Art Of Retaining Students
Teaching Success Strategies For A Winning Career
And Much More
Step 2: Pass The Exams
Passing both practical and theoretical tests are required to become a barber teacher. This ensures that future educators have the skills and knowledge needed to be successful in the field!
Practical Exam
The practical exam will consist of two parts, a lecture evaluation and a demonstration evaluation. During the lecture evaluation, you will present an oral lesson on a given topic. You must develop a step-by-step lesson plan for a class using the appropriate principles of learning, motivation, presentation, application, and evaluation. During the demonstration evaluation, you will perform a basic barber-related task as you would in a classroom.
Theoretical Exam
The theory examination will consist of multiple-choice questions and "pretest" questions.
In this exam, you will be tested on:
Teaching Methods (14%)
Assessment Tools (16%)
Determining Effective Instruction (36%)

Establishing goals and objectives
Determining essential knowledge, skills, and abilities
Understanding outcomes
The Learner and Learning Environment (34%)

Learning styles
Individual differences
Motivation
Record keeping
Classroom arrangement
Step 3: Get Started On Your New Career!
Now that you've completed all the steps required to become a barber teacher, it's time to combine your passion for barbering with your desire to educate and inspire others! The barbering industry is always in need of quality, passionate teachers. By stepping into the role of a barber teacher, you can become an influential figure in shaping the future of barbering. Your journey as a barber teacher is just beginning and you have the power to make a difference in others lives!
What Are The Benefits Of Becoming A Barber Teacher?
There are many benefits to becoming a barber teacher! Some of them include:
Sharing Your Passion: As a barber teacher, you can share your passion with aspiring barbers and teach them what they need to know to be successful!
Make A Difference: By mentoring students, you can play an instrumental part in their lives and can help them pursue their dreams while developing their skills.
Continuing Education: Teaching others requires you to stay updated with the latest trends and techniques in the industry. This forces you to continuously expand your own knowledge!
Personal And Professional Growth: Becoming a barber teacher provides opportunities for you to grow. It allows you to refine your teaching skills and enhance your communication and interpersonal skills!
Contributing To The Industry: By nurturing the next generation of barbers, you have the chance to contribute to the barbering industry.
Fulfilling And Rewarding Career: The joy of seeing your students succeed and knowing you played a part in that can be extremely rewarding as a barber teacher.
Creative Expression: Teaching gives you a platform to express your creativity through teaching. This can be done by creating engaging learning activities or developing innovative lesson plans.
Leave A Legacy: There's nothing quite like making an impact on thousands of students throughout your career. By inspiring students, you can create a lasting legacy in the industry, leaving behind a positive impact that goes beyond your career.
Pursue Your Passions With Us!
If you're ready to kickstart your career and become a barber teacher, don't wait! Take the first step and contact us today. We work hard to ensure our students get a quality education and want nothing but the best for them.
If you're still trying to decide where to start your education, start it with us! We can't wait to help you pursue your dreams and turn them into a reality! We look forward to hearing from you.