March 1, 2023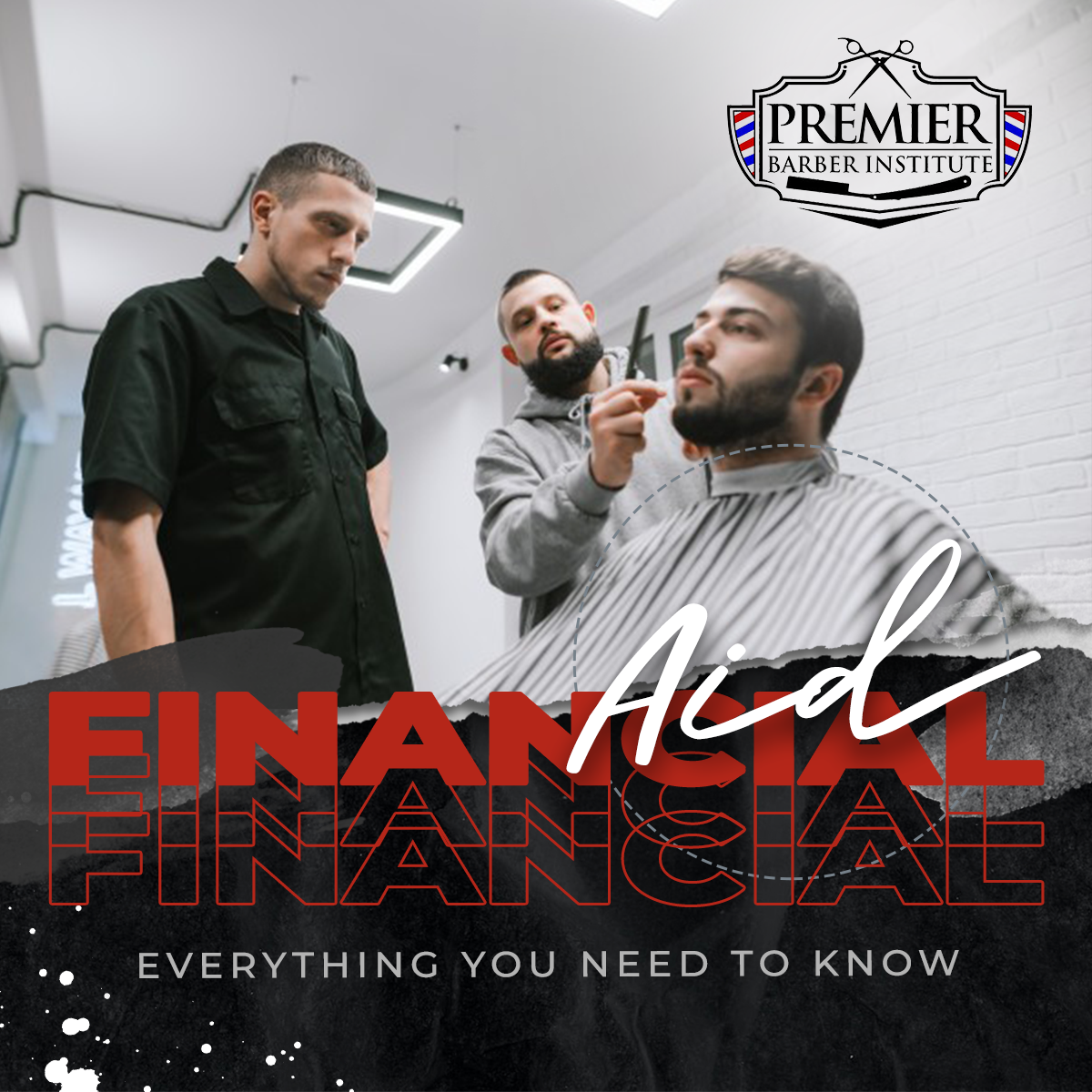 Are you thinking about enrolling in a barbering program but concerned about how to pay for it? *Financial aid may be the answer you're looking for. In this blog, we'll cover everything you need to know about financial aid, including what it is, how to apply for it, and what types of financial aid are available to students. By the end, you'll have a better understanding of your options and how to get the financial support you need to pursue your career goals.
What is Financial Aid?
Financial aid is money provided to students to help pay for their education. It can come in the form of grants, loans, or work-study programs, and is designed to make higher education more accessible and affordable. Financial aid is typically based on financial need, although some types of aid may also be based on merit or other criteria.
Types of Financial Aid
Financial aid can help make higher education more accessible and affordable, but it's important to understand your options and choose the right financial aid option for you. Several types of financial aid are available for individuals looking to pay for barbering school. These options include:
Federal Aid
Federal aid, such as Pell Grants and Direct Subsidized and Unsubsidized Loans, can help cover the cost of tuition and other education expenses. Pell Grants are grants that do not need to be repaid. Direct Subsidized Loans, on the other hand, must be repaid, but the borrower is not responsible for paying interest if they meet certain criteria.
Direct Unsubsidized Loans must be repaid, and all students are eligible to receive them, regardless of financial need.
PHEEA loans
In Pennsylvania, PHEAA loans, offered through the Pennsylvania Higher Education Assistance Agency, can provide additional funds to help cover any remaining costs after other financial aid has been applied. To be considered, the borrower must first fill out the Free Application for Federal Student Aid (FAFSA).
VA Benefits
VA benefits, available to honorably discharged veterans who meet the benefit requirements under the GI Bill®, can also help cover tuition and other expenses.
Payment Plans
Finally, payment plans can be arranged to help students pay off any remaining costs over time. Payment plans may be available for any remaining fees not covered by financial aid or scholarships. Payment plans are typically customized to fit the individual's needs and are based on the remaining balance after other funding sources have been applied.
At Premier Barber Institute, we will discuss the financial aid options you are eligible for during the application process, and create a payment plan that takes into account any remaining fees after considering other funding sources.
Scholarships
Scholarships are a type of financial aid awarded based on merit or other criteria, such as academic achievement or leadership skills. Scholarships can be offered by the school, organizations, or other groups, and don't have to be paid back. You can look for scholarships in your area or utilize resources such as Beauty Changes Lives to assess your options.
Work-Study Programs
Work-study programs are a type of financial aid that allow you to work part-time on campus in exchange for financial assistance. These programs are typically offered to students with financial need.
When considering your financial aid options, be sure to pay attention to repayment terms, eligibility requirements, and the impact on your future finances. It's also essential to explore all your options, including grants, loans, work-study programs, and scholarships, to find the best fit for your needs.
How to Choose the Right Financial Aid Option for You
With so many different financial aid options available, it can be overwhelming trying to determine which one is right for you. Here are a few things to consider when choosing a financial aid option:
Repayment terms: If you're considering a loan, be sure to pay attention to the repayment terms. Some loans have higher interest rates or more stringent repayment terms than others, so it's important to understand what you're agreeing to before you take out a loan.
Eligibility requirements: Different financial aid options have different eligibility requirements, so be sure to read the fine print and make sure you meet the requirements before applying.
Impact on future finances: Financial aid can significantly impact your future finances, so it's important to consider how different options will affect you in the long run. For example, taking out a large loan may help you pay for school in the short term, but it could also result in high monthly payments and long-term debt.
Other options: Finally, be sure to explore all your options before making a decision. This may include looking into scholarships, grants, and work-study programs in addition to loans.
How to Apply for Financial Aid
To apply for financial aid, you'll need to complete the FAFSA. The FAFSA is a form that collects information about your financial situation and helps determine your eligibility for financial aid. You'll need to provide information about your income, assets, and other financial resources to complete the form.
You can complete the FAFSA online at the official government website or app, or through the financial aid office at your school. It's important to complete the FAFSA as soon as possible, as some types of aid are offered on a first-come, first-served basis.
To ensure that your application is sent directly to us, be sure to include our school code, 042523, when completing the application. This will allow us to contact you to schedule a tour of our campus in Norristown and answer any questions you may have about attending barbering school in Pennsylvania.
Start Your Journey With Premier Barber Institute
Financial aid can help make higher education more accessible and affordable, but it's important to understand your options and choose the right financial aid option for you. By taking the time to research and compare your options, you can find the financial support you need to pursue your career goals and achieve your dreams.
If you're interested in learning more about financial aid at Premier Barber Institute, visit our financial aid page. Our team is dedicated to helping you find the financial support you need to succeed, so don't hesitate to reach out if you have any questions.
You can also contact Premier Barber Institute to learn more about how we can support you in your journey to becoming a licensed professional barber. We're here to help you every step of the way.
*financial aid only available to those who qualify