October 19, 2023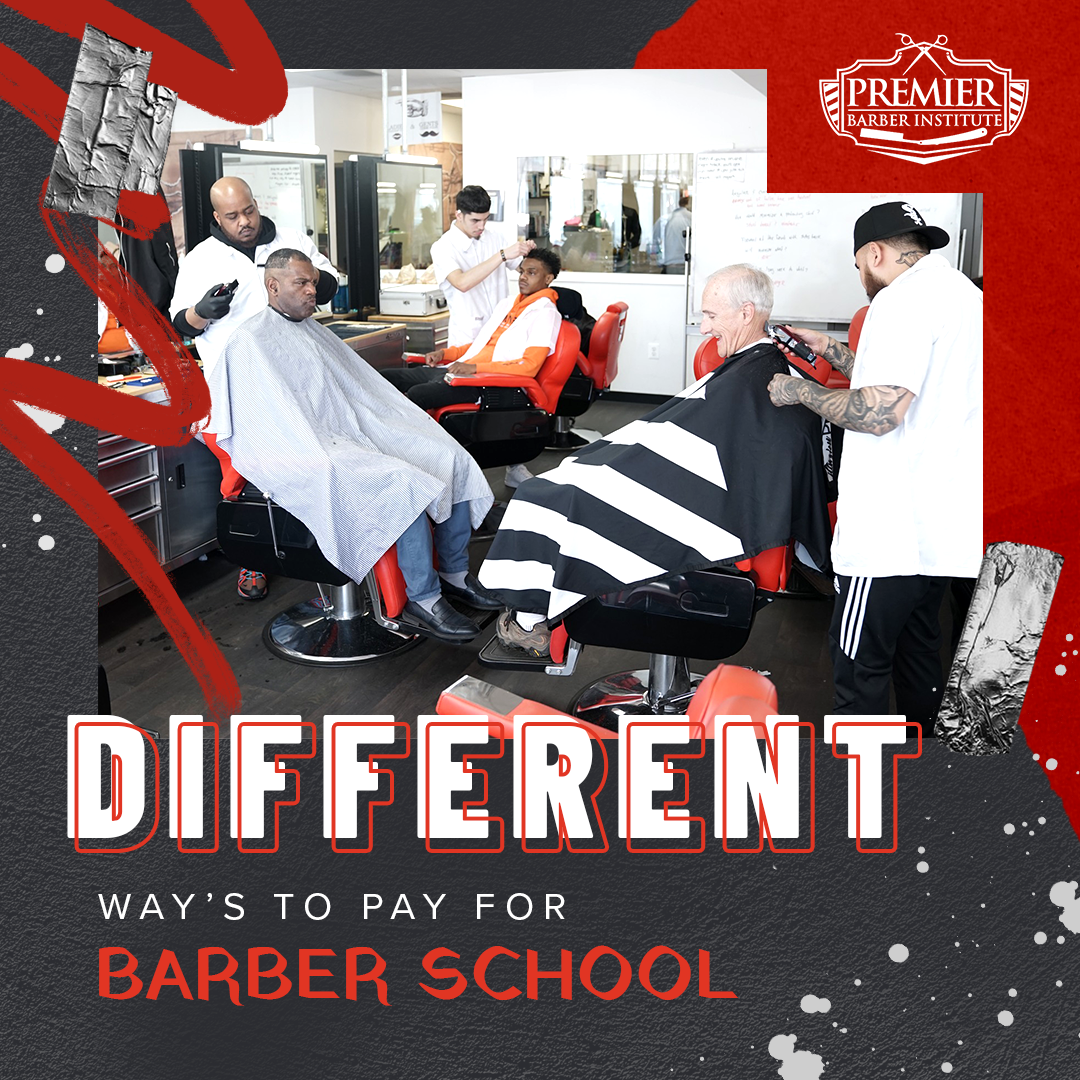 Are you passionate about pursuing a career in the world of grooming and barbering? If so, you're on the path to mastering the art of cutting and styling hair, but there's one aspect you might find challenging: paying for your barber school education. Premier Barber Institute understands that finances can be a significant concern for aspiring barbers, which is why we're here to guide you through the various ways you can fund your education. In this blog, we'll not only discuss conventional methods of financing your barber school but also shed light on how you can utilize a unique financial strategy to help make your dream career a reality.
Traditional Ways to Pay for Barber School:
Federal Financial Aid:

Just like traditional colleges and universities, barber schools are eligible for federal financial aid programs. To determine your eligibility for federal grants and loans, you need to complete the Free Application for Federal Student Aid (FAFSA).

Financial aid only available to those who qualify. 
State Grants and Scholarships:

Many states offer grants and scholarships to students pursuing vocational or technical education. Research the financial aid programs available in Pennsylvania to explore your options.

Scholarships and Private Grants:

Numerous organizations and companies offer scholarships and grants to individuals pursuing a career in barbering. These can be based on various criteria, such as academic achievement, community involvement, or financial need.

Work-Study Programs:

Some barber schools participate in federal work-study programs, which allow you to work part-time to help cover your education costs.

Private Student Loans:

While federal loans are often more flexible and affordable, private student loans from banks or credit unions can also be an option for funding your education.
Apply for Financial Aid
When it comes to paying for your education, the first step you need to take is to apply for financial aid. Your Free Application for Federal Student Aid (FAFSA®) determines your qualifications for financial aid options, such as federal grant money and other types of loans. As an accredited school in Norristown, Pennsylvania, we can offer federal financial aid, available to those who qualify for our Barber Program, Barber Crossover Program, and Barber Teacher Program barbering programs. 
If you feel like you are struggling with the application process or have any questions, our admissions team can help you get started. The most common federal aid options are:
Pell Grants

Direct Subsidized Loans

Direct Unsubsidized Loans
Loans are expected to be paid back, but most common grants are free. Who doesn't like free money? That is why we highly recommend that before you enroll into a barber program you start the financial aid application process to see if you qualify for any grants. 
PHEAA Loans 
You can apply for a loan through the Pennsylvania Higher Education Assistance Agency (PHEAA). This is why it is best to fill out the FAFSA application at the beginning of your beauty school journey. This type of plan is flexible and can cover additional costs that aren't covered by Pell Grant or other aid options. 
Scholarships
Scholarships are a great direction to go if you are looking for financial assistance outside of financial aid. You are going to want to apply to scholarships that are specific to barber schools. Beauty Changes Lives is a great resource that we recommend looking into first. 
Here are a few barber scholarships to consider applying for:
You can also apply for scholarships that are offered in the area where you are planning to enroll. We highly recommend doing your research and applying for as many scholarships as you can. Be sure to take lots of pictures during your beauty school experience and training, so you can build your portfolio. That way you can apply to other scholarships that require you to be enrolled in a program. 
VA Benefits
Are you a veteran? VA benefits are available to honorably discharged veterans who meet the benefit requirements under the GI Bill®. This can not only help students cover their tuition, but other educational expenses such as housing and textbooks. GI Bill® Is a Registered Trademark of the U.S. Department of Veteran Affairs (VA). More information about education benefits offered by the VA is available at the U.S. government website www.benefits.va/gov/gibill
Using Your 529 Plan for Barber School
A 529 plan is a tax-advantaged savings plan designed to help families and individuals save for future education expenses. Did you know that you can use it to pay for barber school? Here is how you can use it:
Qualified Education Expenses
First, it's essential to understand what the IRS considers qualified education expenses when using a 529 plan. These expenses include tuition, fees, books, supplies, and equipment required for the enrollment or attendance at an eligible educational institution. The good news is that barber schools are considered eligible educational institutions.
Barber School Eligibility
Before using your 529 plan to pay for barber school, confirm that your chosen institution meets the eligibility criteria. Premier Barber Institute, for example, qualifies as an eligible educational institution for this purpose. Check with your school's financial aid office to ensure you have all the necessary paperwork and information to meet the requirements.
Withdrawals from Your 529 Plan
When you're ready to use your 529 plan for barber school, you can make withdrawals from the plan to cover your qualified education expenses. It's essential to keep accurate records and receipts for your expenses, as you might need to provide documentation during tax season.
State Tax Benefits
Some states offer additional tax benefits for contributing to a 529 plan. If you've been contributing to a 529 plan, make sure to explore any state-specific incentives that can help you save on your barber school expenses.
Join the Premier Barber Institute Family!
Navigating the world of financial aid is an essential step in making higher education more attainable and budget-friendly. At Premier Barber Institute, we are dedicated to providing comprehensive information about the financial support available to you. 
If you're eager to dive deeper into the realm of financial aid, we encourage you to explore our financial aid page. Here, you'll find valuable insights and resources to help you on your path to success. Contact our admissions team today to learn more about the financial resources that we have to offer and how to get started on your financial aid application.